I am a digital storyteller based in Boston, MA, USA.  I am primarily a filmmaker but also have strong skills and training in writing and photography, as well as experience with graphic design, web design, and coding for digital art projects.  My films have screened in festivals internationally and my photos have appeared in art shows and publications including the Boston Globe.
I recently completed my Master's of Professional Studies in Digital Media, video concentration, at Northeastern University. I received my BA in film and video production, with honors, from the University of Southern California School of Cinematic Arts (frequently ranked as the top film school in the US). 
I have experience in all aspects of video production including screenwriting, storyboarding, hiring talent and crew, shooting, lighting, recording audio, video and audio editing, visual effects, and formatting video files for online use.  If you are seeking a creative filmmaker to tell you organization's story feel free to contact me.
I enjoy collaboration and creative community-building, and I am interested in helping the Boston area become an even better place for arts and culture.  I was an early organizer of the
Firefly festival
and I have done volunteer work for Transcultural Exchange, Cambridge Community Television, and the B-Side artists' neighborhood in Jamaica Plain.  Recently I have been a guest speaker on Boston cultural history for classes at Harvard and Suffolk U., at the Norwood Space Center, and on Somerville Community Access TV.
I also enjoy teaching, and have taught video editing to middle school and high school students at summer programs for Plugged In Band Program and LARP Adventure Program.  I have also been a guest speaker on screenwriting for an MIT class and a meeting of the MIT Film Club.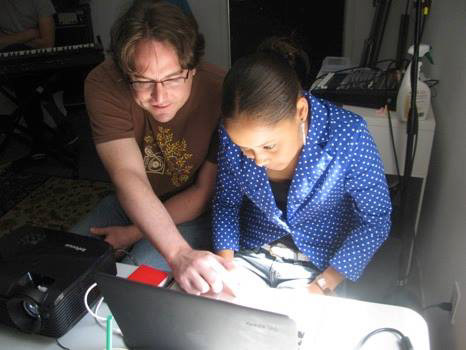 I have lived in Massachusetts most of my life, except for college and part of high school in California. I now live with my husband Dan and cat Toby in Waltham, MA. Dan and I were married in 2006 when same-sex marriage was not yet legal in most of the US. Here's a picture of us at an LGBT rights march in Washington, DC in 2009.